Shaman's Drum Making
Shaman's Drum Making, Join Shaman Spiritualist Tamare White-Wolf
Its time to create, birth and feast your own sacred shaman's drum, in this powerful drum making workshop! These drums have the Shoshone Native American style with Dream Catcher Webbing too, if you so desire, as these drums help us to create and catch our dreams! they will also assist us to help others with their dreams!
The drum has long been associated to our heart beat, which it is said that by playing them we align ourselves to our heartbeat, to our authentic inner being. They are representative to the mother and our feminine side as well the mallet/drumstick associated to the father and our male side! It has been used to assist with anger and sadness! It has been known to heal illness of all kinds, and emotional issues among-st the tribes, clans and communities! There are many legends from various native, Celtic, Asian and African tribes who are the originators of the Shaman's Drum as it is a global medicine tool used by all aboriginal and Indigenous people!
Its a 2 day workshop with a week apart
During the making of the sacred drum, messages will come through which we will discuss as each drum is individual like a child and have their own personalities, each often carry messages for the creator! Traditional teachings will be given, the many legends will be shared in stories. A traditional feast will follow on the last day where we each bring a feast food to the ceremony, where we awaken the drum and sing it to life!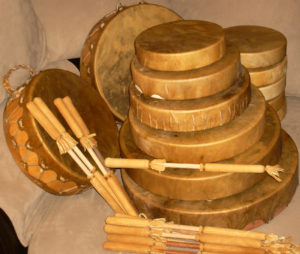 What to bring a square yard of red cotton fabric
A sacred stick you may have that could be transformed into a mallet
Woman please wear a skirt!
A feast food (to be discussed after the first day we meet) to be brought on the last day we meet!
Full Payment $222- March 8th &15th 11-5pm
Location 461 Penetanguishene Rd Barrie