Reverend Tamare White-Wolf Offers you and your "spouse-to-be" an opportunity to custom create your special wedding day. Lets sit and consider all your dreams and fit them together to design that perfect day adding the few requirements necessary in order to make it "legal".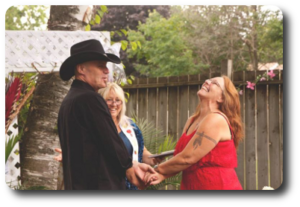 We can perform a traditional smudging ceremony while each of your guest enter a circle, having more participation from your guests can really be special! After everyone is in place we can welcome in the quarters and ancestors to witness your union! Maybe you want to keep it simple and have seating as if they are the audience as with many now-a-day weddings and skip that part. You may choose to have a traditional ring exchange or personally written vows, or maybe its not your first time around and you have a blended family, that's wonderful, we can arrange unique ways to include just about anything into the ceremony with ease!
In The Barrie Area
Fee $350- for basic service
$100- Rehearsal
$50- Walk Through
$100- On My Land with 2 Witnesses
For large groups please see Land Rental
$150 – Outside of the Barrie Area, up to an hour away.
The choice is always yours! Contact Me Here