Weddings by "The Wedding Woman" Ordained Minister Tamare White-Wolf
I've been creating and performing wedding ceremonies since 2008. These where what was called "natural law weddings" meaning not legal in the eyes of our country however those who chose to do so felt a true commitment and that was enough for them. After sometime folks asked me to perform such ceremony under "civil law". I so enjoy uniting folks that I decided to become an Ordained Minister and in the eyes of Ontario Law I am now legal to provide legal wedding ceremonies.
However if you would prefer a "natural law wedding" I'm delighted to do so.
I'm a professional Psychic, Pagan Spiritualist, Shaman Priestess, Esoteric Teacher & Ordained Minister. I've been working in the Meta-Physical realm for 3 decades and at my awesome spiritual shoppes since 1997!
I was ordained with "Bancroft Spiritual Centre for Awakening Spiritual Growth" in 2014.
I specialize in Handfasting, Natural, Pagan, Wiccan, Native Spiritual Wedding Ceremonies. I am a Wise Woman of the old ways and love to offer such pagan ways to others at affordable prices. These weddings empower folks to start their lives as husband and wife on a spiritual, magical and natural path, making for a stronger and healthier union for life!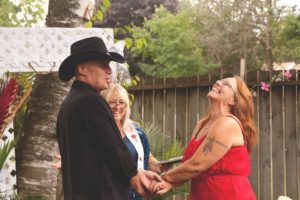 There are so many beautiful ceremonies and traditions being revived by couples looking for unique experiences to remember their special day.
Secular Ceremonies in all faiths
and more, just tell me what you would like and we will customize the vows to say what's in your heart and soul! Maybe you want to have your ceremony here on our land. That is possible large and small receptions are welcome. We do have a stage for music, and a beautiful part setting, rent if for a weekend too maybe have your guest camp out with you. The possibilities are plentiful and endless.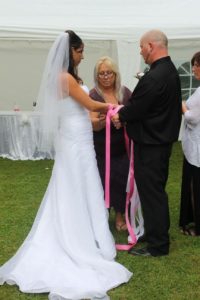 Weddings $350 -$550, with and without rehearsals. Meet online first and decide if Tamare is the perfect fit for you and your loved one!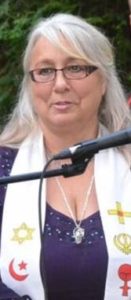 If you are considering a simple wedding, or have another person you want to perform the ceremony and need me to only witness/sign the wedding certificate and you are within my area I'm willing to discount my rates. Let me know and Bright Blessings