Tamare White-Wolf Sessions
Many Modalities of Divination to chose from!
Tamare White-Wolf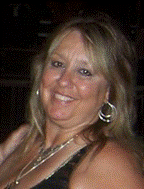 Ordained Minister, Psychic, Seer, Shaman Spiritualist, Pipe Carrier,
Esoteric Teacher & Healer
Tamare White-Wolf created, owns and operates BOTH Earth and Sky Connection Shoppes since 1996. One in the Heart of Downtown Barrie, the other up the street which, we call , Shamanic Healing & Learning Centre, complete with live and dried herbs, smudges bundles, tea blends, tinctures, resins, salves and potions. Also available, our Online Shoppe and Psychic Services.
Tamare buys, sells and designs, crafts and showcases a wide variety of Spiritual items, Supplies, Gifts & ART. At her Shoppes, you'll can find "gifts from around the world", Local Canadian Art and Multi-faceted Services in an Open, Peaceful Environment.
Tamare is a seasoned Seer since 1991 however has been dabbling in the craft since she was 9 years old… A long time and comes from a generation of Seers! DETAILS ABOUT TAMARE
$50 S.O.S* Psychic Reading~*Seniors, Ontario Works or Students Only
$50 SpellCast & Consultation ~Do you need guidance in your spell work? Let me help!
Tarot Card Reading
Past Life Regression
Medicine Tea Smudge
$135 Advanced Reading ~ All Inclusive
Tarot Card Reading, Crystal Ball, Pendulum & Psychometry (reading personal pictures, letters, clothing & jewlery)
Spiritual Council
$200 Gypsy Reading ~ ALL THE ABOVE "Advanced Reading" Modalities plus Pick One from the "$90-" for a Combination or 5 modalities per Session of 1 1/2 Hours to 2 hours
$175 Shamanic Spiritual Healing Counciling ~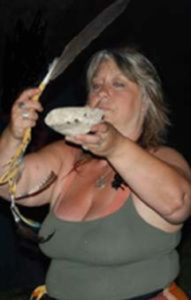 Sessions are 1 1/2 Hours to 2 hours
Initial Spiritual Assessment
Soul / Spirit Retrieval Session
Spiritual Council
Shamanic Journey (used for determining recurring blocks & fears)
The below are healing alternatives that maybe used in the session accordingly:
Eagle Feather Cleansing / Healing / Reading
(if spirit guides the feather is given to the client)
$150-House Blessing & Cleansing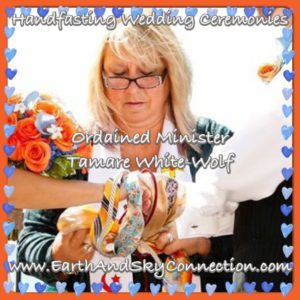 Do you Need an OFFICIATE? Let Tamare Help you!
Tamare has been studying the ancient methods of marrying, called Handfasting, we know some of the terms, "jumping the broom" or "tying the knot",
$350 Ask for details
Traditional Weddings & Rehearsals
Baby Blessings, Baptismal & Naming Ceremonies
Farewell To the Summerland Ceremonies (Memorials)
Tamare White Wolf is celebrating a wonderful life of working as a Psychic (since 1988) and invites you too to Celebrate those YEARS with her by hosting a Psychic Party in your home! Must have 6 others (in town) or 10 others (out of town)
Invite one or more of one of our wonderful Professional Team Psychics & Seers for a one on one in-person and/or on-line private session, or a large group experience. Our Psychics will be honoured to sit with you and your guests, we take pleasure in making your event the talk of the town!…
In Barrie – 6 Guest Requirement $75 per person
Out of Town – 10 Guest Requirement $85 per person
SPECIAL EVENTS: Halloween, Christmas, Bridle/Baby Showers etc…
Allow us to complement your event for a few hours and we'll fit up to 30 of your guests with 5 minute "In Person Sessions" for only $420- .
If you're event is long distance we can MSN/Skype your party with the help of the Internet and each guest can have a visit with us on-line, with one easy payment to paypal, visa, mastercard or american express. If you'd rather have us take all the hard work outta collecting the fees, we can provide the service for you! TRY IT!!!!
Spirit Spas
Corporate Functions, Business Meetings, Private Gatherings
Invite Our Professional Team To Your Special Day
Chose 3 between the following

Psychic Readings and Healing Options:
PSYCHIC ALTERNATIVE
Traditional TAROT, Wax & Water, Palmistry, Astrology, Rune Stone, Sacred Path, Gemstone, Crystal Ball, Numerology, Fairy Readings, Angel/Goddess Readings, Feather Divination, Totem Readings, I-Ching, Psychometry (Pictures, Jewelry, Letters, Clothing)
HEALING ALTERNATIVES
Huna, Reflexology, Reiki Healing, Healing Touch, Therapeutic Touch, Ion Spa Foot Bath, Hot Stone Massage, Crystal Ball Massage, Indian Head Massage, Lymphatic Drain Massage, Dream Analogy, Herbal & Shamanic Counsel, Eagle Feather Cleansing, Quantum Bio-Feedback, Lazer Therapy
OTHERS ALTERNATIVES
Hair Cut , Hair Styling, Make-Up, Manicure, Pedicure
Minimum 10-20 guests, cost is $100-hst included per guest > in town
$110-hst included per guest if > out of town